You may have heard of China Brush. It is basically some kind of herbal concoction that is said to have originated in China over 100 years ago and is also known as Suifan's Kwang Tze Solution.
It comes in a tiny vial of brown liquid. The cap contains a brush made from natural materials itself (it doesn't look like a regular manufactured brush).
You apply this liquid to the head of the penis using the brush. When I bought this the guy at the store told me to apply a couple of drops to the underside of my penis (where the frenulum is). I tried that and it had no effect.
So next I coated my entire glans with this unknown liquid. No effect.
It would actually be quite difficult to use the brush to cover my entire shaft, this product is not intended that way so this was not tested.
All in all, I think China Brush was not a very good product for me. However, millions of units of it are sold every year around the world so it must work for some men. At a cost of a few dollars it is certainly worth a try. Walmart still carries it and you can probably pick some up at Amazon.
The main ingredient is ginseng. While this can enhance your libido, ginseng is not know to have any ejaculatory delaying properties. It also contains garro wood, bezoar, clove, cinnamon, bovine gallstones and aloe barbadensis.

Interested in Finding a Permanent Cure?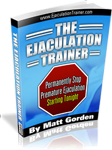 Have you heard of Ejaculation Trainer by Matt Gorden?
It's taking the PE world by storm
. Here's his claim:
"How You Can Last 10-30 Minutes Longer In Bed Tonight & Permanently End The Pain & Embarrassment Of Premature Ejaculation"
Read Our Full Review of Ejaculation Trainer by clicking here.